Circa Guitars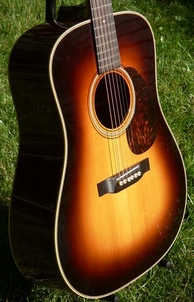 The pine forests of Maine where John Slobod performs his craft are over 400 miles from Nazareth, PA. And the last time I checked, we're a good 70 years after what most folks term the golden era of guitarmaking. But both the geography and the decades of the time that have passed seem pretty insignificant when you get a chance to play one of the beautiful Circa dreadnoughts that do great justice to that prewar Martin sound.
What did those herringbones sound like when new? It's always fun to speculate, but I guess I have to believe the tone they produced was quite similar to what you'll here from John's consistently exceptional instruments. A true crafstman with a healthy respect for the traditions, materials, and approaches to construction that made the prewar guitars what they are, John does his best to replicate that elusive, captivating combination of volume and tone that have earned the '30s and '40s dreadnoughts the respect (and incredibly high prices) that they command today.
Any luthier will tell you that there's more to building a vintage-inspired dread than a forward X-brace and scalloped bracing...but that's sure a good place to start. The devil is in the details, as they say, and John Slobod is a guy whose workmanship has earned renown from players and builders alike. Ask those who know and they'll tell you that John should be in anybody's short list if they're after that prewar tone - a true "luthier's luthier."
So why haven't you seen a Circa at the local jam if they're so great? Though John's been building full time for a number of years, the majority of his guitar output has been the fine instruments produced from the Pantheon shop run by Dana Bourgeois. Over the past few years, John has transitioned more and more to working independently and hopes to be building Circas exclusively in the not-too-distant future. Because of his limited availability, a long waiting list has been the name of the game for a while now. Fortunately we've been sitting in line and can make available a Circa much sooner than you'd get a new order, and as an authorized Circa dealer, we're able to offer the instrument at the same price as you'd pay directly from John.
As you may have already noted from the Circa option and price list, there are cheaper handmade guitar options out there. But we feel strongly that this is one case where the quality of the finished instrument so far exceeds many of those inexpensive options that John's guitars can faily be termed an excellent value. Amateurs and professional players alike are one by one discovering Circa guitars and the buzz has been building quickly over the last year. I have no doubt that the wait will only get longer and the price will increase with the growing demand, so grab your Circa while you can!
Questions? Ready to purchase? Call us at 317-509-4247 or email us at guitarmatch@gmail.com